Juventus beat Atletico Madrid and got through to the quarterfinals of the Champions League on Tuesday, just in case you live under a rock. Of course, Cristiano Ronaldo got a hat trick and the whole squad was on point. Heading into this season, I believed that Juve were one of the top 3 favorites to win the Champions League. This belief has become more apparent, at least for me, after Tuesday's amazing match. I will discuss 3 reasons why I believe Juve's odds of winning the Champions League has increased ever since yesterday's match.
1. Cristiano Ronaldo
I know this is obvious to many fans of footy, but the fact that Juve not only bought CR7 in the summer as well as him having had such a great match on Tuesday, demonstrates that this generational talent gives Juventus a greater chance than ever to win the Champions League this season. Cristiano Ronaldo at 34 years of age is still a defender's worst nightmare, which helps Juve. Cristiano Ronaldo also possesses the right mentality to win this competition, as he has won it 5 times in his career. Don't get me wrong, without Ronaldo, the bianconeri (Juventus) still possesses a squad that is very capable of winning the Champions League, but having someone like CR7 at your disposal adds that extra oomph to the squad.
2. Juventus' Squad Depth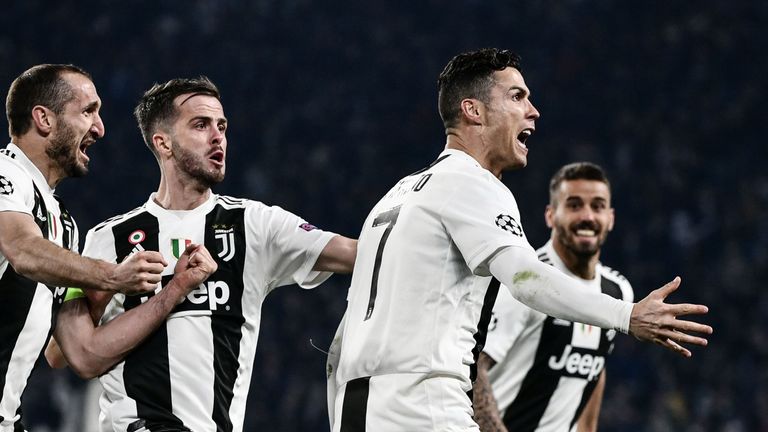 Generally, in any winning squad, there is always one player that stands out above the rest. But, in order for that star to be at his/her best they need teammates that can support them. As we have seen in this match and in many others over the past few seasons, Juventus has boasted tremendous squad depth. Even yesterday, both Juan Cuadrado and Douglas Costa could not play in the match because of injuries. However, Juve has so much squad depth that replacing them with Bernardeschi on the right-wing was no big deal and actually, some would argue that Federico Bernadeschi was Juve's best player on Tuesday. It's not just upfront, though. At the left-back position, Leonardo Spinazzola played over their regular starter Alex Sandro and played stellar too. This squad depth, as was shown on Tuesday, will give Juventus a good chance of winning the Champions League this season.
3. Juventus' Heart and Determination
Maybe, it's Juve's manager Massimiliano Allegri or the players themselves, but in the Champions League, this club seems to show heart and determination even if they get eliminated in the competition. It's like the heart and determination lives in the bloodstreams of players who wear the white and black jersey. We've seen countless examples of how this club demonstrates plenty of heart and determination and this season is no different. Juventus seem to be the type of club that can bend easily, but is very difficult to break. This is as a result of the club's mentality. This will definitely help guide Juventus to winning their first Champions League title since 1996. I am hoping, as are many other fans, that Juventus pulls it off this season. Let's hope it happens!
Thank you reading my blog posts! Be sure to follow, like, comment, or share my content if you like it.
Instagram: @calciofanblogs '
Twitter: @calciofanblogs1
Facebook: Calcio Fan Blogs